Inland often beats beach

Beach properties
Tourists prefer to stay by the beach. Thus beach plots, beach villas and beach hotels are the prime investment. However, they are the most expensive to buy and have the highest maintenance costs. The choice has become extremely limited because most of the obviously best (view, proximity to Galle etc.) are owned by people who don't consider of selling.
Most beach properties between Beruwela and Weligama are adjoining the very busy and noisy Galle Road. You can block off the noise by incorporating certain architectural features in your construction. The quiet plots (Weligama, Dickwella, Tangalle area, but also Balapitiya between Hikkaduwa and Bentota) deserve closest attention even if they might – today! – not be in the middle of a tourist area.
The Costal Conversation Department limits the height and location of construction by the beach. The more distance between water line and opposite boundary the better.

Inland properties

Inland = lower prices, more choice, no regulations
You can select from many reasonably priced properties. Inland you find spectacular views over lakes, lagoons or rivers, over rice fields or tea plantations, and panoramic views of 5 – 15 km. You can practically build what you like where you like and as high as you like.
For the reasons mentioned inland properties nowadays often beat beach properties.
Almost all properties are "remote" properties
Let's face it: under the tourist point of view any place further than walking distance off the beach or the Galle Fort is "remote", and to remedy the disadvantages of remoteness you simply need a vehicle with driver that's available within 20 minutes and will transport the tourist wherever he wants for free or by fixed charge per kilometre and for each hour of waiting.
Best views and best prices you can find off the beaten tracks. So why not consider investing a few kilometers (meaning a few car minutes) inland?
For your own transport I strongly recommend that you rent a small car. With your self-drive vehicle you are inpedendent of drivers and weather and you don't have the hassle of car ownership.
As an investor you should keep in mind that 15 years ago Thalpe was considered ridiculously remote and meanwhile has become a hotspot for villa investment. In my opinion up to 15 minute drive from the beach is okay for tourism, up to 30 min drive is okay for private residence – always under the condition that the location is really special.
More on transport and self-drive rental cars you find on a tab below.

Ask us to consult you on the matter helping you to make the right choice.
Where are the present hot spots?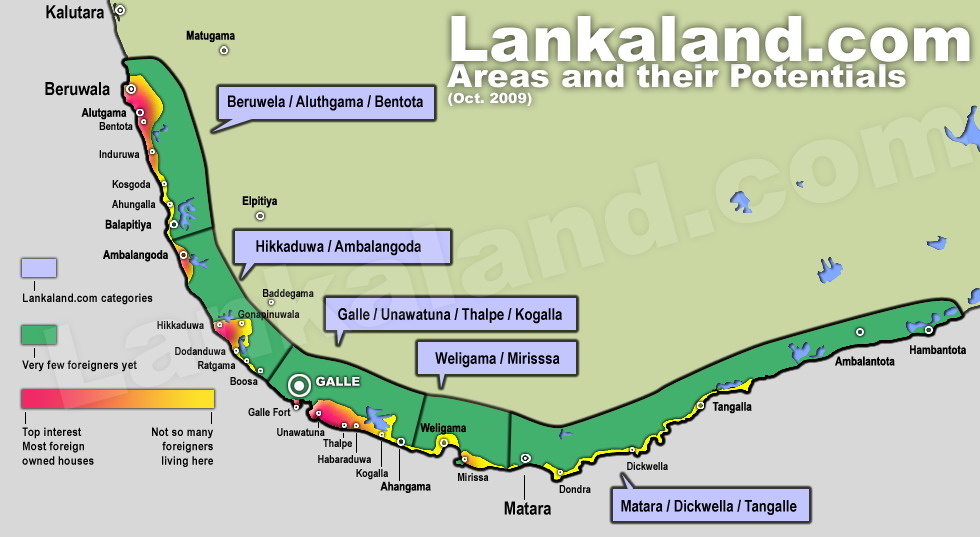 It should be said that in the very early days (1980 - 1990) most foreigners bought and/or built in the Beruwela / Aluthgama / Bentota area. Some of these foreign owned houses are for sale today, but practically none meets modern building standards. Reason: at the time of construction many materials were not available in Sri Lanka that are common now.
Hikkaduwa also has quite a strong number of forreign settlers but most of them built on limited budget. The nice, large and expensive villas you mostly see either in the Galle area, particularly Thalpe (near Unawatuna), or scattered all over the stretch from Galle to Tangalle.
Special attention should be directed to the Galle Fort. The World Heritage Site is the by far most sophisticated touristic spot in Sri Lanka. Many foreigners have bought and renovated villas there - a very costly hobby that seems to be profitable nevertheless.
Nightlive you find in Unawatuna and much less in Hikkaduwa. Large size hotels are located in Bentota, Aluthgama, Beruwela and much less in Hikkaduwa.
The areas
Beruwela / Aluthgama / Bentota
In the former fisher village of Beruwela many foreigners own houses since the early 1980s - right after the hotel tourism has started and seen guests falling in love with Sri Lanka. Beruwela has since grown substantially. Formerly isolated properties are now in the middle of - usually upper middle class- neighbourhoods.
You find rather more German speaking foreigners in Beruwela than those of British or Australian origin.
Aluthgama is the main town adjoining Beruwela. A wide selection of services and shops is found here. Many foreigners live in houses in this area, too, though it's not as high in demand as Beruwela - with the exception of the river properties.
Bentota used to be a small fisher village before half a dozen of large hotel developments turned into one of the most popular destinations in the south-west of Sri Lanka. Many former guests of the hotels have invested in private property here.
South of Bentota you find smaller hotels and foreign investment in Induruwa. Other villages might have the occasional foreigner here and there, but hardly in "clusters". Ahungalla (where the famous Heritance Hotel - formerly Triton is situated) has some holiday homes, so does Kosgoda.
A bit further south we find Balapitiya with very nice beaches and still good chances to purchase at a rather low price since this area isn't yet in the focus of investors.
Hikkaduwa / Ambalangoda
Hikkaduwa was the first and most popular area for back packers, starting its success in the mid 1970s. Still the village has only few hotels (situated at the least attractive stretch of the beach) and will not change, because the uncounted guest houses lining the beach are all family owned businesses on small properties with the Galle Road in their backs. There is not enough space to build big hotels there.
However, in the last few years we have seen quite a few run down guest houses changing hands and being knocked down to make space for modern, more sophisticated construction for the up-market clientele.
Many former back packers - now in their 60s or older - have purchased property in the Hikkaduwa area. And Hikkaduwa keeps being attractive to newcomers because it has the charm of individual tourism ((with many young surfers coming mainly from Australia), a lot of different beach restaurants and still the best value for the money (due to the family competition at the beach).
Inland from Hikkaduwa one finds many beautiful green areas with quite a few foreigners having houses there (e.g. Gonapinuwala area, 5-6km off the beach).
Ambalangoda is more a town than the village Hikkaduwa, but has only little tourism. In the last few years some foreigners bought property in this area because is was a bit cheaper than Hikkaduwa and only a few minutes away. The coast north of Ambalangoda has picturesque stones (Balapitiya).
Between Ambalangoda and Hikkaduwa you find some nice beaches, but the disadvantage here is the fact that they all are located next to the Galle Road. Only Balapitiya has beach property off the noisy traffic.
Close to Hikkaduwa, but not so popular are the villages south of Hikkaduwa, particularly Dodanduwa and Rathgama with the large lagoon there.
Between Hikkaduwa and Galle you find still few foreign investments. Early movers are seen like the famous boutique hotel Aditiya in Rathgama - others will definitely follow. Advantage of the area: some beach spots off Galle Road.
Galle / Unawatuna / Thalpe / Kogalla
Galle is the main citiy of the province with a lot of cultural activities - second only to Colombo. The Galle Fort is a UNESCO World Heritage site, and some 70 investors have bought and spent millions of dollars to jazz up the old houses there to coffee table book beauties. The Galle Fort foreigners are a particular crowd - wealthy and of English origin (many having made their fortunes in Hongkong and turning their interest to Sri Lanka after Hong Kong being handed over to China).
Besides the Fort hardly any foreigners have houses in Galle town.
Unawatuna was once considered the most beautiful beach in the world - but wild construction activities, beach erosion and beach discos have spoiled this quite a bit. Investors prefer now locations off the over-busy beach. Many beautiful houses are found at the slope of the Rumasala hill north west of the bay and in the sloped of flat areas around Unawatuna. The prices are rather high here, and you find some extraordinary villas.
Thalpe (Talpe) is situated east of Unawatuna and is known to be the area most popular among wealthy foreigners. In the 1980s it was considered far, far away from everything, and at that time only five cars per hour would be counted on the Galle-Matara road. Beautiful emerald coloured water, a mix of coral reefs, sand and rocks attracted the rich to build spectacular beach villas - many of which are today run as boutique hotels. Being close to Unawatuna, one can enjoy the many restaurants of this still popular place.
Many of the beach properties - nothing but poor yield coconut plantation even during the 1990s - were sold to large scale investors during the 2003 and 2004 bonanza, when foreign investors didn't have to pay the 100% property tax that was levied on property purchase before and after (and can today be avoided with intelligent legal constructions of the foreign investment).
Habaraduwa, the beach village at the Kogalla lagoon, became the cheaper alternative for those who couldn't afford Thalpe. The prices are appreciating here quickly.
The Kogalla lagoon has seen a big growth in attractivity for foreigners during the last ten years. The natural beauty and the fact that at some part of the lagoon there is little population were the main arguments in favour of this location - still close to Unawatuna (restaurants) and Galle Fort (upper class restaurants). Like in the Galle Fort or Thalpe it was mostly the British / Hong Kong upper-class crowd that invested in properties around Kogalla lake.
Weligama / Mirissa
Weligama would be the next spot of higher interest. The large bay with the famous Taprobane Island close to its beach has seen quite some development in the last years. Some well elevated property at the beach and close by wait for investors. The prices here have doubled in no time.
There are some beach locations off the main road west of Weligama that are extremely sought after.
Mirissa is a beautiful bay, too, and the peninsula has spectacular views over the ocean.
Between Mirissa and Matara there are a few very beautiful spots, too. Some have a substantial distance to the main road.
From Weligama on you'll have less rain. Make sure you have a good well on your property for the dry season!
Matara / Dickwella / Tangalla
Matara itself now is connected to Colombo by the new express. Matara itself and also the Polhena Reef area of Matara are of little interest for foreign tourists - too densly populated, restricted beach construction etc.
From Dondra over Dickwella to Tangalla you find some of the most beautiful beaches in Sri Lanka - coming with sand and rocks, some with cliffs and soft elevations. Still it's mostly larger investors how are attracted by this area.
Area and price
The Sri Lanka property market is as "exploited" and professionalized as one sees it in other countries. Prices reflect popularity.
The market is growing and the prices are appreciating because tourism increases at a fast pace. Today money can be made with all kinds of rentals. Most importantly for our investor clientel a good income can now be generated with villa rentals, with small boutique hotels and with guest houses in the lower price segment.
Beach generates the easiest and biggest money - therefore beach properties have to high price tag. Inland properties close enough to the beach are particularly interesting for tourists who don't want to listen to traffic or discos. They are very popular for families or older tourists who have a lighter sleep. Thus the mid range prices for anything up to 2 - 3 km off the beach. Further inland you mostly pay for scenic qualities or colonial architecture.
Let me emphasize again that the availability of all kinds of transport has changed immensly over the last few years. 10 km off something was end-of-the-world only 10 years ago. Today it's a phonecall to one of the 10 drivers who's phone numbers ons stores in one's cell phone - or better even the 15 US$ per day rental car that you just hop in and start.