Your house and garden deserve contemporary sculptures!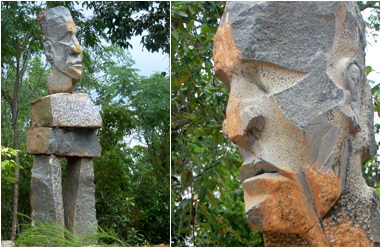 You have such a great lot with such a wondereful villa or hotel on it. All superb architecture deserve to be matched with stunning contemporary sculptures! Imagine a serious piece of sculpture in front of your entrance or as a centrepiece in your garden or living area.
Special conditions for you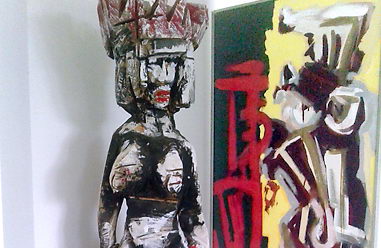 Lankaland.com cooperates with the contemporary sculptor Akeem Kalugalla. You'll get special conditions through us. Contact us for visits at the artist's studio and sculpture garden (Baddegama, near Galle) or in his Colombo show room and any further information under: info@lankaland.com
Only granite sculptures survive tropical outdoor climate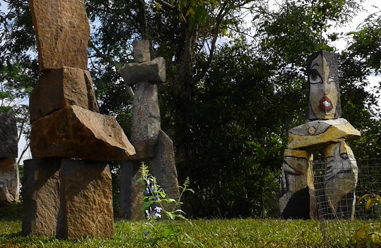 One's love for art should be the prime reason to select a contemporary sculpture. But there are additional concerns to take into account when a sculpture is supposed to be positioned in a garden.
Which material will survive the tropical climate?
Only granite doesn't need any care and will keep its properties for thousands of years.
Wood, plastic material or steel can't compete with that.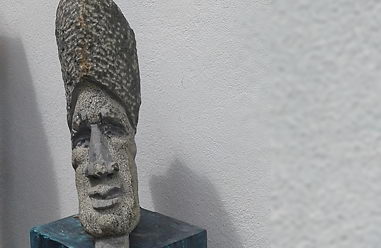 In the artist's sculpture garden you can see 7 - 10 huge granite sculptures (up to 400 cm high, weighting up to 1,500 kg ) and another 5 - 10 smaller granite works on pedestals. The studio gallery displays a number of smaller works
Combine granite sculpture with water features
Since the times of the ancient Greeks and Romans stone sculptures have been the perfect centerpieces of fountains.
We provide the engineering skills to realise projects with sophisticated water features and lighting in your garden. Let's talk about your requirements.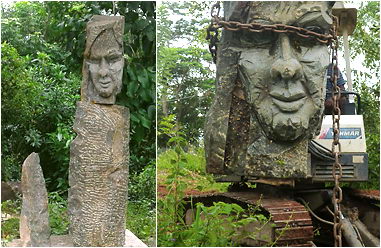 Professional assembly of monuments in tight spots
We can solve the engineering challenge to set up a large stone sculpture in a garden without easy access for "heavy machinery". Let's inspect your site and suggest a solution.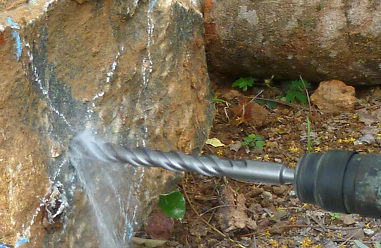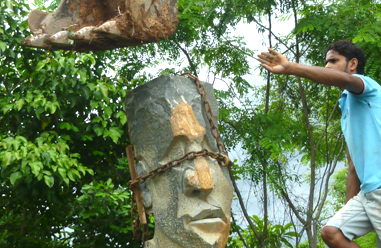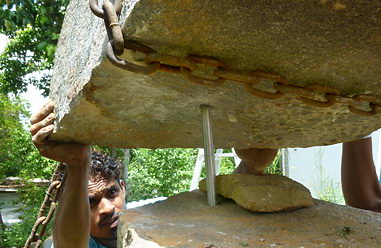 Wooden sculpture for the interior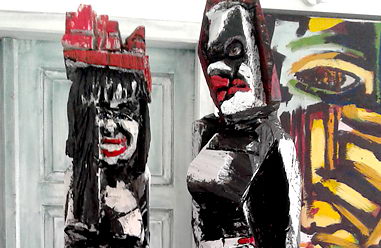 Sculptures help create an interesting atmosphere in any room. But there is the prejudice that they consume a lot of space, tend to tip over and are difficult to maintain.
Wrong! Slim and high sculptures don't have to stand "in the way". They are ideal to be mounted to a wall, particularly at spots that are too narrow for a painting.
There are various solutions against tipping over.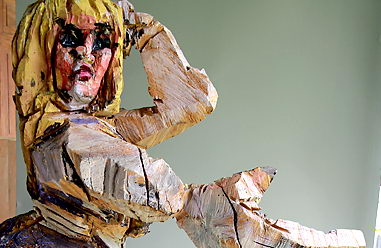 If attached to a rollable but heavy enough pedestal the sculpture can be moved around - for redecorating purposes as well as to allow easy cleaning of the floor.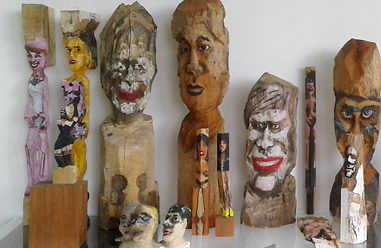 At the artist's studio gallery you can select wooden sculptures from 10 cm to 210 cm in height.
Commissioned work
Worldwide most large scale outdoor sculptures are commissioned to fit a certain architectural situation. The artist inspects the site, creates one or several small scale models, and then the client decides according to taste and budget.
Let's talk about your ideas and requirements. Granite sculptures can be made up to a maximum height of 600 cm and a maximum weight of 15,000 kg.
Buy or rent contemporary sculptures!
There are two reasons to rent a sculpture:
The art lover isn't quite sure whether a particular work might be the right choice.
The art lover wants to purchase a number of pieces at a time (or a very large one) and doesn't want to pay the total amount in cash.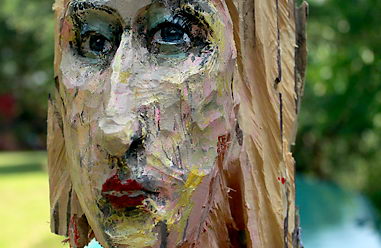 We offer a choice of renting art - before or instead of buying it.
Renting art in Sri Lanka
Perfect for hotels who need numerous works and like to replace their "collection" every once in a while.
The client rents the art work on a monthly basis for very little money. He/She may return rented pieces and replace them with other works. The rental period can be ended any time.
If interested in buying there will be a huge discount - depending on the previous rent paid.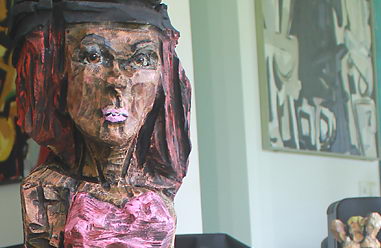 As a matter of fairness the art lover covers the costs for the transport and the setting up to him/her and back to the artist's studio.
Further info and contact
Lankaland.com cooperates with the contemporary sculptor Akeem Kalugalla who is working near Galle, Sri Lanka. You'll get special conditions through us. Contact us for visits at the artist's studio and sculpture garden (Baddegama, near Galle) or in his Colombo show room and any further information under xxx: