Property#H330
Outstanding! Perfect picture book paradise at a very reasonable price! Perfect value for the money. Good rental potential. Owned by French / German couple.
Buy freehold or lease for 99 years!

Location
Hikkaduwa area
6 km to the beach
Quiet and decent rural and residential neighborhood
1 km to supermarket (Gonapinuwala)
700 m to access road leading to Colombo-Matara expressway.
Land
525 m² = 21 perches
Clear title
Very well kept garden
Surrounded by wall
Pool
Approx. 4.5 m x 6 m x 1.5 m
Main House
3 bedrooms
1 living room
1 veranda
1 kitchen
1 bathroom
Apartment
Infrastructure
3 x air condition and fans
Electricity
Phone
Satellite dish for international TV
Well with pump and tank


Price


Price reduced to only: 70,000 EUR
(+ agent's fee)
Contact: info@lankaland.com
1 Perch = 25 m²
1 Rood = 40 Perches = 1,000 m²
1 Acre = 4 Roods = 160 Perches = 4,000 m²
________________________
Please note, that one perch originally is 25.29 m², though mostly calculated as 25.00 m².
Property in Sri Lanka is a perfect choice for investors and people thinking about retirement in a paradise climate.. If you purchase real estate in Sri Lanka, at the beach or inland, you will enjoy a life in one of the most friendly and most beautiful countries in the world. You might fall in love with a villa that is for sale in Sri Lanka or if you vote for you own construction of a holiday bungalow by the beach or inland. The law for purchase and ownership of property is quite open: you can purchase and sell property in Sri Lanka tax-free (through a company structure that you incorporate with you as a sole director). You can also get a 99 years's lease in your name. Definitely you don't need a "friend" as a frontman / straw man. Your investment can be done perfectly legal. We can give you a recommendation of lawyers specializing in foreign property investment in Sri Lanka.
Budget flight tickets are available from various air carrieres. Emirates is an airline, popular with people who travel to Sri Lanka to have a great holiday. SriLankan Airlines (formerly Air Lanka) and Qatar Airways are famous as well. Cheap air tickets to Colombo Katunayake Airport are available at many travel agents. You can buy check flights to Colombo on the internet too.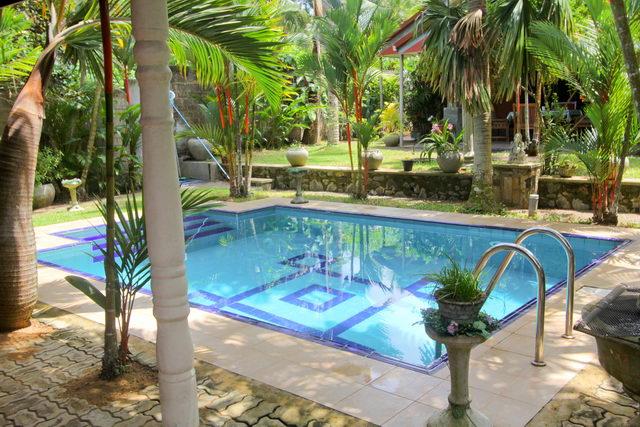 The pool is the key feature of the lush tropical garden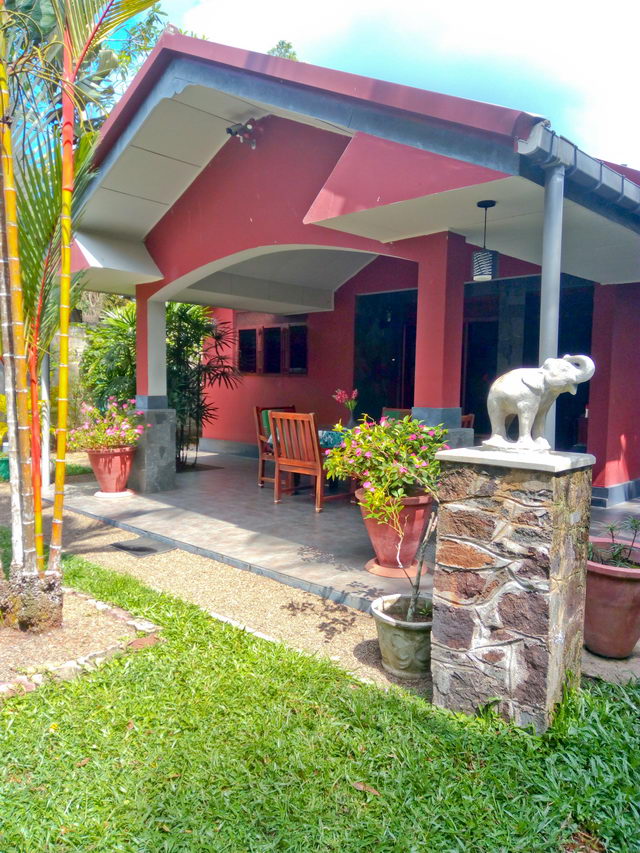 The veranda is where you will spend most of your time - enjoying the view to the garden and the pool.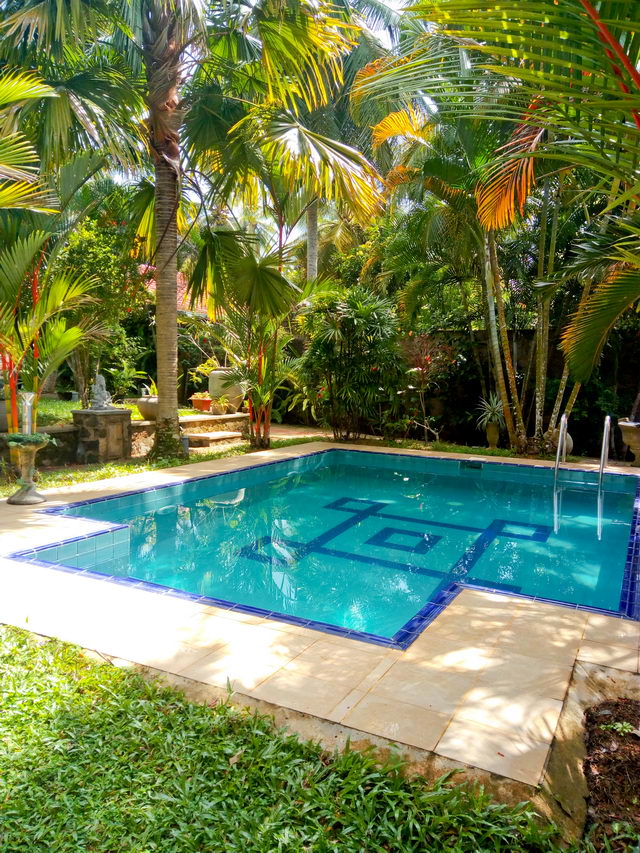 The pool has just the perfect proportions for the garden.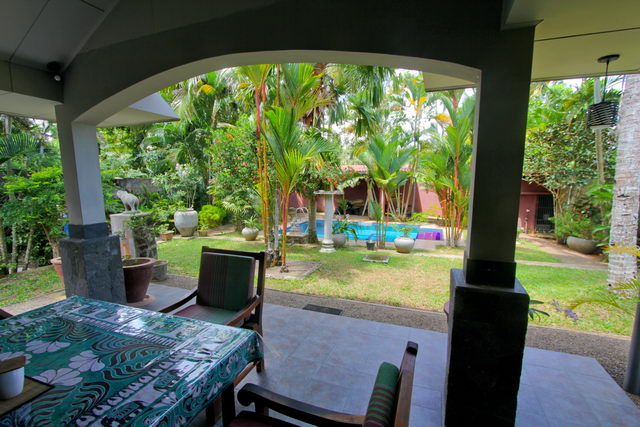 View from veranda to garden and pool.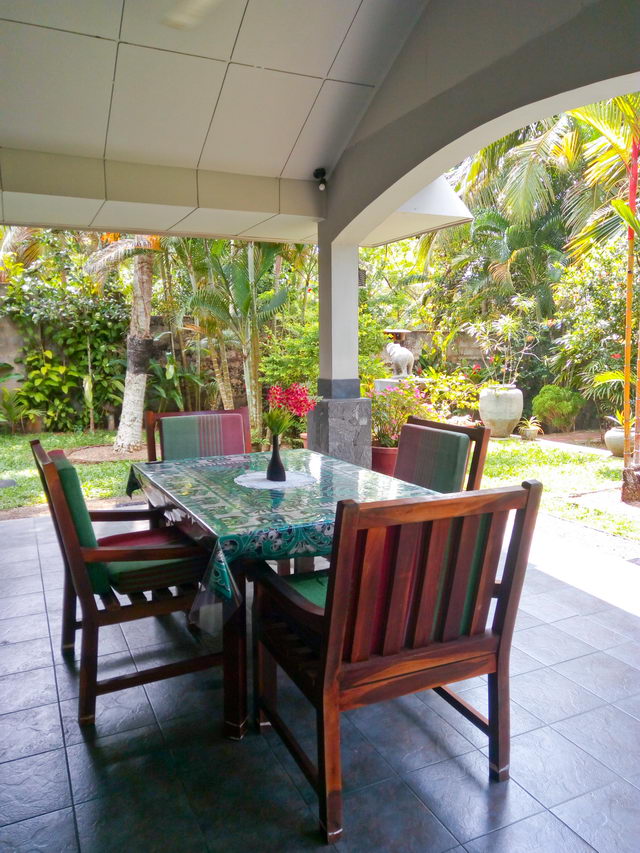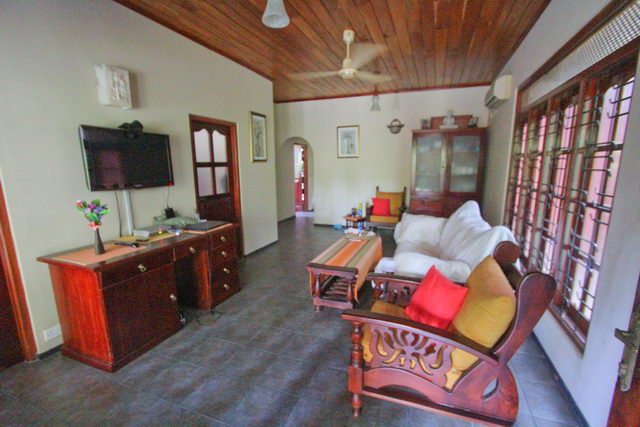 The sitting room. From here you access the three bedrooms, the kitchen and the bathroom. See last image on this page for floorplan.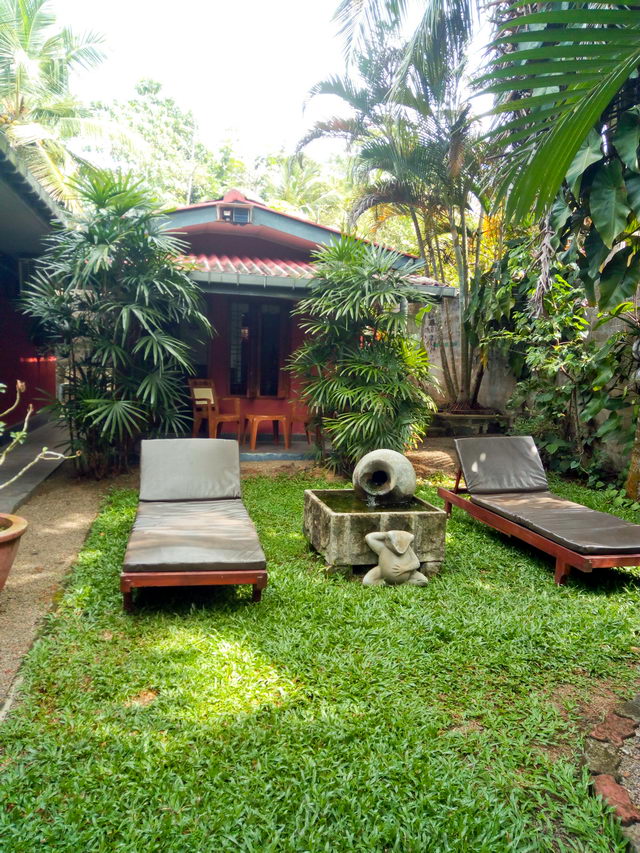 There is a cozy little guest house in the garden.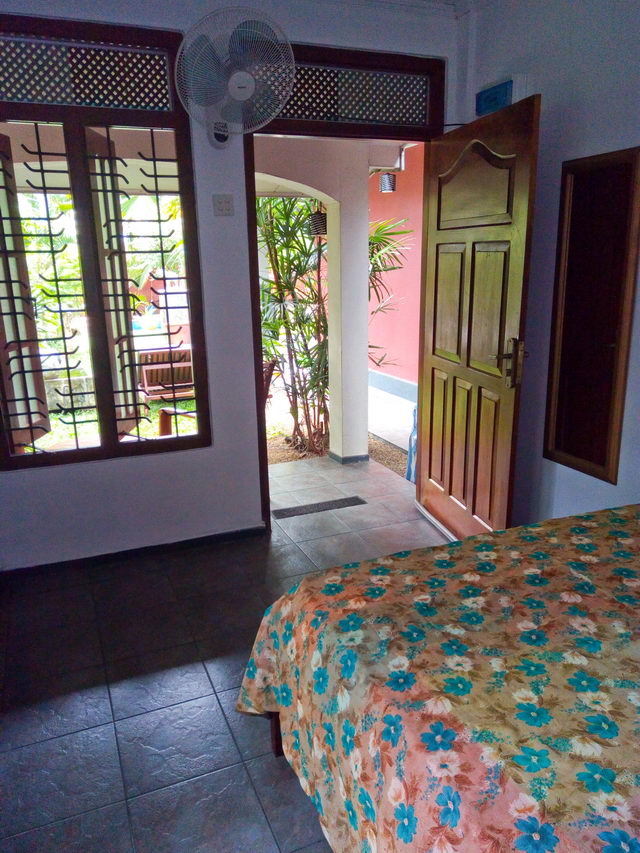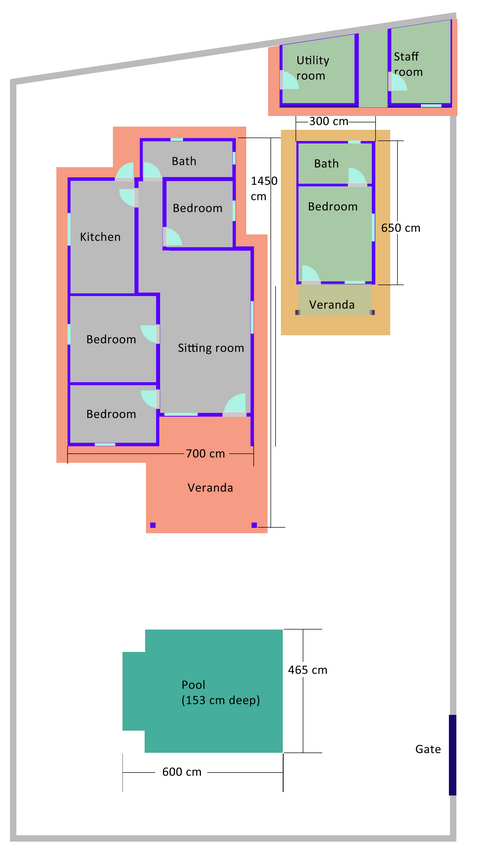 Rough plan with approximated measurements